I was invited by Gladys Kirkland to give a series of poetry readings/lectures about my parents and their experiences in World War II to the Freshmen Social Studies students at Valdosta High School last Thursday (Oct.4), and I wrote up an introduction that I hoped would get the students interested in what I was telling them about.
I know that a lot of the students I had over the years at Eastern Illinois University hated to hear about wars and such because it sounded to them like war was just a bunch of numbers. I was afraid that the students at VHS would respond like that, so I wrote up this introduction. I wanted them to know that the war was more than just numbers. I ended up not using the introduction because the students at VHS didn't seem afraid of numbers, but I hate to write something and not use it so I thought I would post my introduction here.
HISTORY AND NUMBERS



History is full of numbers, dates, fractions, the number of this, the number of that.

Maybe you've heard of the M-1 rifle or the V-2 bomb or the B-17 bomber, or 2nd Lieutenants and Privates first class and 5-star generals.

We even give numbers to Wars. There was the 100 Year War, the War of 1812, the First World War, and World War II. Right now the US is fighting what's some times called the Second Gulf War. But it's the Second World War that I'm here to talk about.
If you go on line, and Google WWII statistics, you'll get a lot of numbers, enough to fill up a couple or more textbooks.

You'll find out that the Nazis murdered 6,000,000 Jews. You'll find out that altogether 52,000,000 people died in the war, more or less. You'll hear that 20 million died in Russia, 7,000,000 died in Germany. 2 million in Japan. I was surprised to hear that Yugoslavia, a country that I don't think much about anymore and probably never did, lost 1.7 million people. The country my parents came from was Poland, and it lost 1/6 of its population. Before the war, there were 36 million Poles; that means about 6 million died. In Warsaw, the capitol city of Poland, a quarter of a million civilians died during a 60 day battle to throw the Germans out in 1944.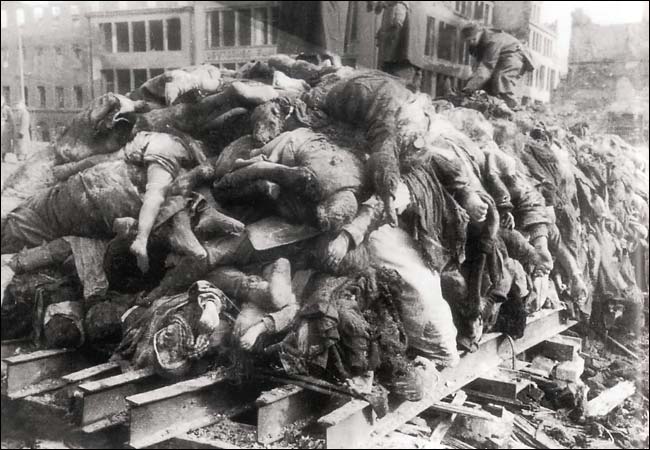 America got off pretty easy in WWII. It lost just a half a million, mostly soldiers. In those other countries it was about half soldiers and half civilians. "Civilians" is another way of saying wives and husbands and their children.

There are also the numbers involved in how much was spent on the war. The numbers here run pretty high. The U.S. spent the most money on the war, an estimated $341 billion. Germany was next, with $272 billion, followed by the Soviet Union with $192 billion. All the billions spent probably add up to a trillion.
There are also numbers associated with what kind of mess was made by the war. The Soviet government calculated that Russia lost 30 percent of its national wealth. As far as I can figure, that means it lost one out of every three of everything: houses, banks, cars, schools, railroads, bikes, and farms.

In Germany, bombing and shelling produced 4 billion cu m (5 billion cu yd) of rubble. I don't know how big a pile that is but it sounds like a big pile of rubble. By the end of the war, the Germany capitol Berlin had been pretty much leveled. The people that count up such things estimate that 400,000 buildings were destroyed in Berlin.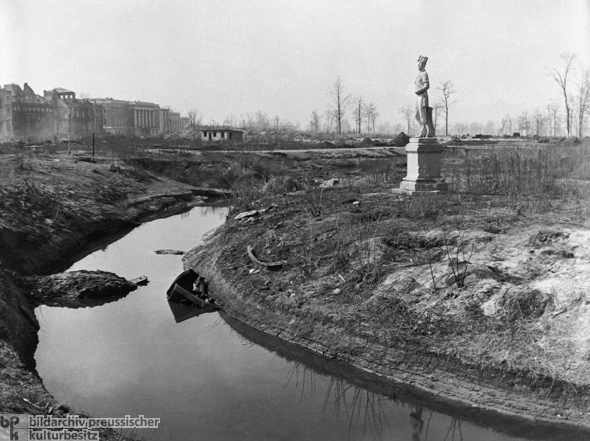 After the war, the Germans who survived the war got shovels and bulldozers and shoved all of those 400,000 building out of the city. Altogether there was about 17,000,000 cubic yards of rubble, bricks, bits of glass and silverware that melted together during the bombings, wood beams, busted up furniture, rusting pipes and porcelain bathtubs. It made a mountain 390 foot tall that in the past was used by Berliners looking to ski in the winter. It's called Teufelsberg in German. That means Devil's Mountain.

War does generate a lot of numbers, and the numbers tend to be big.

I was talking to a friend at VSU, a mathematician, a person who studies numbers, and she said that most people can't imagine a number larger than 1000.

I know I can't.

I only think about small numbers, human numbers. My mother, for example, would be one, my dad would be another one. That's two, the two my poems are about.
(The photos are from the book
The Fire: The Bombing of Germany, 1939-1945
by the historian Jörg Friedrich--there's a link to it on the right hand side.)